It's a strange thing, the forced intimacy on a packed train carriage. Sitting knee to knee with a stranger, close enough to notice that she bites her nails and that her eyelashes are extraordinarily feathery and beautiful. Like everyone else, she's scrolling with a practised thumb through Facebook. Others are sitting back, eyes closed, rocking gently with the rhythm of the train. Most are pecking at their mobile phones, and I like to imagine what it is they're texting: what's for dinner, where are we meeting, making up, breaking up, a thousand different conversations floating through the ether.
Melbourne feels a bit like living in a Juno instagram filter. The colours are so intense, greenest green parks and iron-coloured skies on overcast days. The weather changes all the time, which I thought I would hate, but in fact I love. The morning could start off totally benignly - blue skies, a gentle breeze, and within a twenty minute walk to the train station it can be pouring with rain. Of course, I DID get stuck in the rain with no umbrella on Immy's first day of school when I went to fetch her. As luck (or Murphy) would have it, I took the wrong exit out of the train station, and ended up walking the best part of a kilometre in the completely wrong direction, in the pouring rain, my hair frizzy and drippy, already late to fetch her on her VERY FIRST DAY. Now, two weeks into the school run, I am an expert on train times, platform switches, walking distances, and cozy sidewalk cafes that sell the best hot chocolate and pastries in our neighbourhood.
And I always carry an umbrella.
I've discovered that Immy is a city girl at heart. She negotiates pedestrian crossings, trains, ticket machines as if she's lived here her whole life. She already has three friends (Philippa, Beatrice and Sophie), although apparently yesterday Beatrice had an angry face so I'm not sure what the status of the friendship is today. She lives in an apartment with Rob during the week, within walking distance to the school, while I'm staying with a friend further out in the suburbs. Afternoons I pick her up, we hang out, and then we take the train to her daddy's station where him and I switch her over, catch up on our days, and then head home. She is independent, carefree, energetic - and I find myself in a whole new phase of 'letting go'. She doesn't want to hold my hand as much, and hugs and kisses are fewer. I savour the little things more - letters and drawings, small tokens of love, every kiss and hug and '
I love you mama, more than ten thousand giants
' because they're becoming more rare. It feels too soon.
**
Snapshots of our time here so far...
First day of school. She carries that enormous backpack everywhere. It's her favourite thing.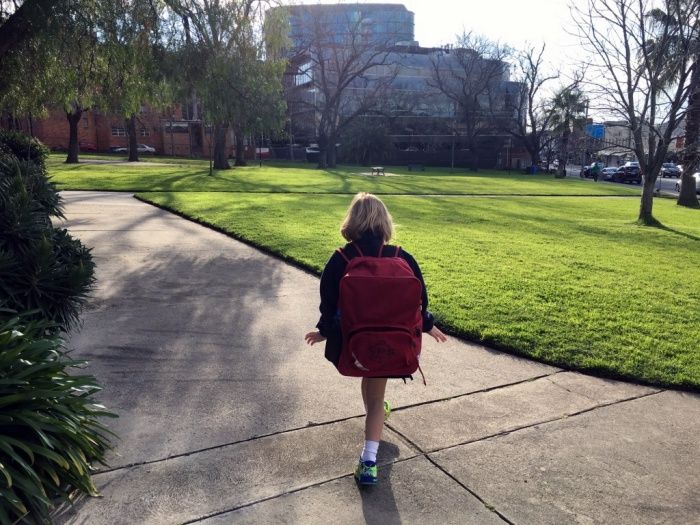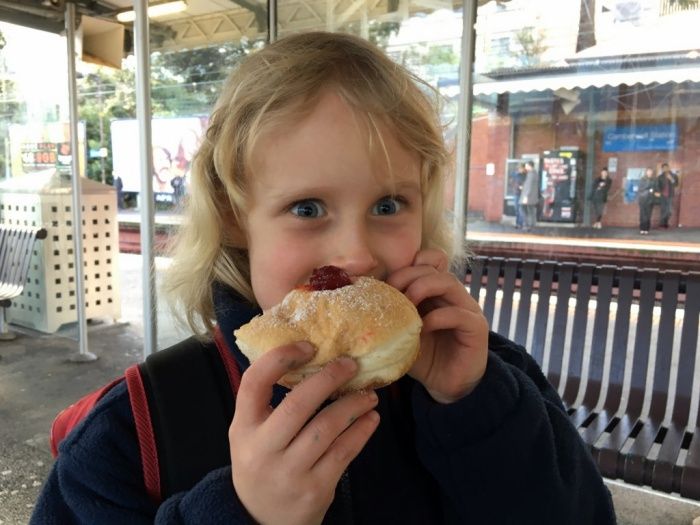 Being reunited with her daddy. So much love and time to catch up on with him. She loves staying with him, and sometimes I find myself unexpectedly face-to-face with the emptiness of not having her here. It's a hard thing, but then I pick her up from school and see her eyes light up when she catches sight of me, and everything feels okay again.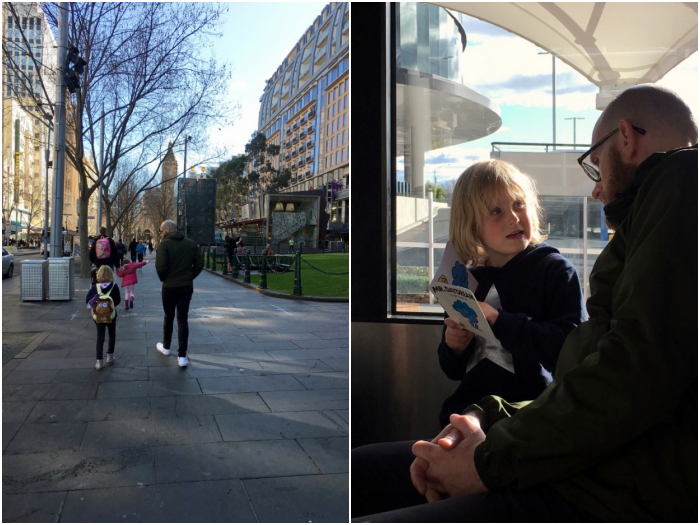 Afternoon school pickup is my favourite time. Sometimes we explore new places. Sometimes we head to the library, and curl up in the bright pink armchair and read books together. Sometimes we stop for pastries and hot chocolate. Those two hours belong to us, and we try and find new things to do as often as we can.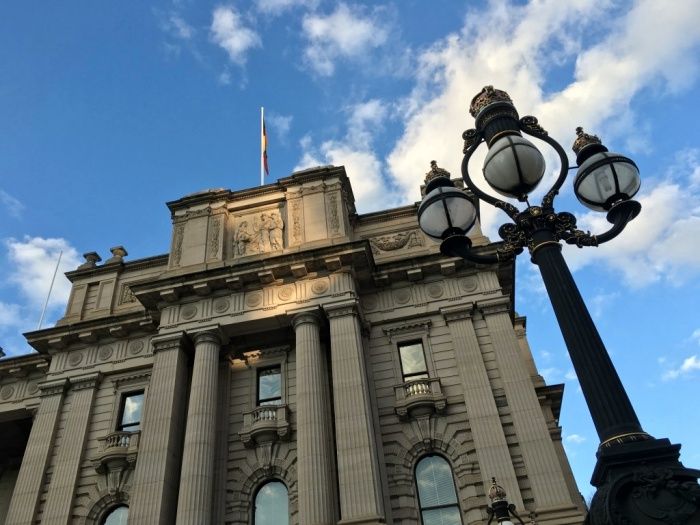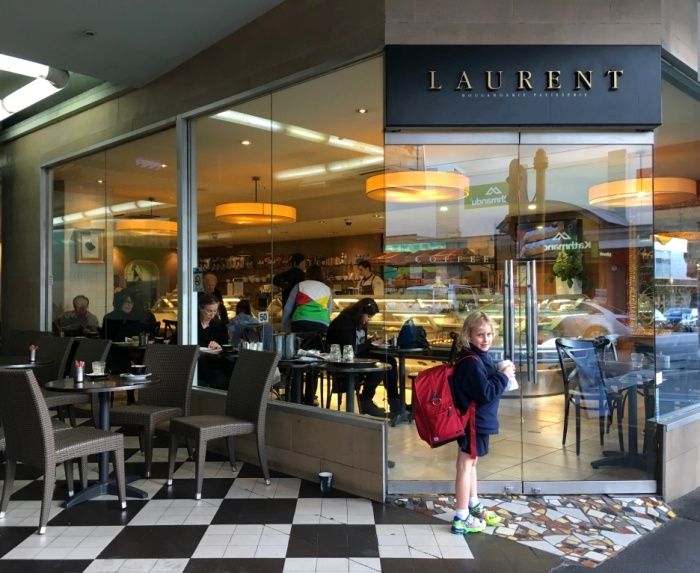 Exploring parks in our local neighbourhood.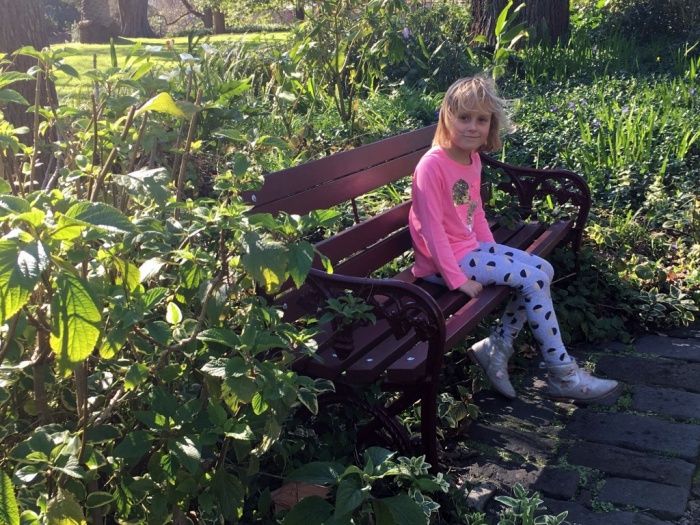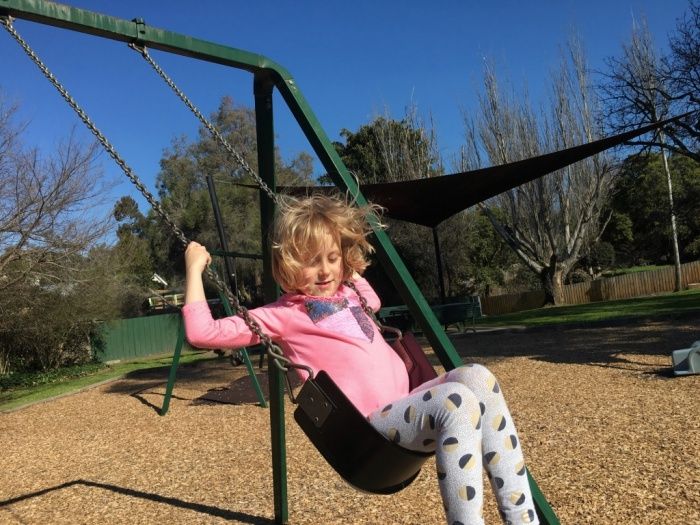 Spring is taking it's sweet time, but we're getting there. The days are getting warmer, the sun is setting a little bit later, and there are new blooms every day on my daily walk to and from the train station.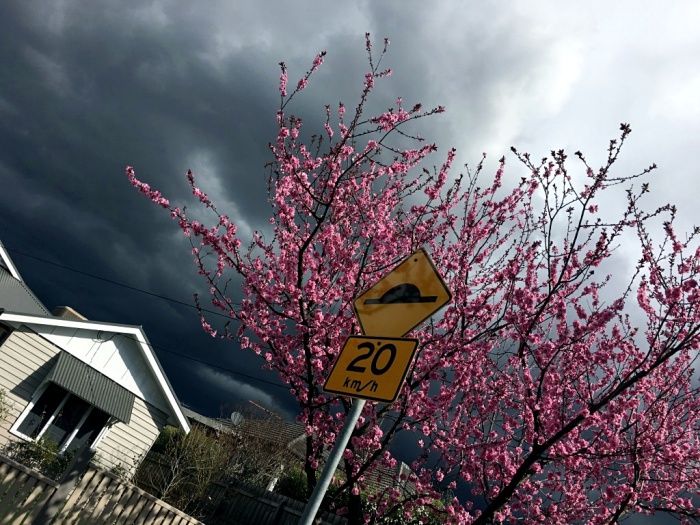 On Sunday we headed to Olympic Park. The weather was perfect, and Immy was in her element swinging, jumping, climbing, and zip lining...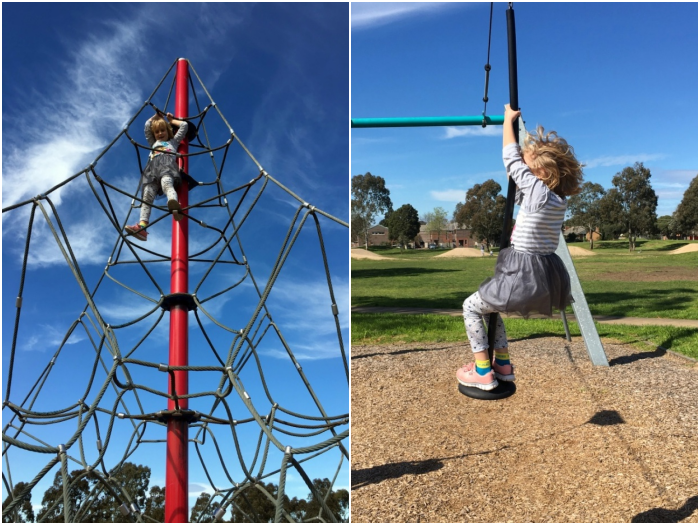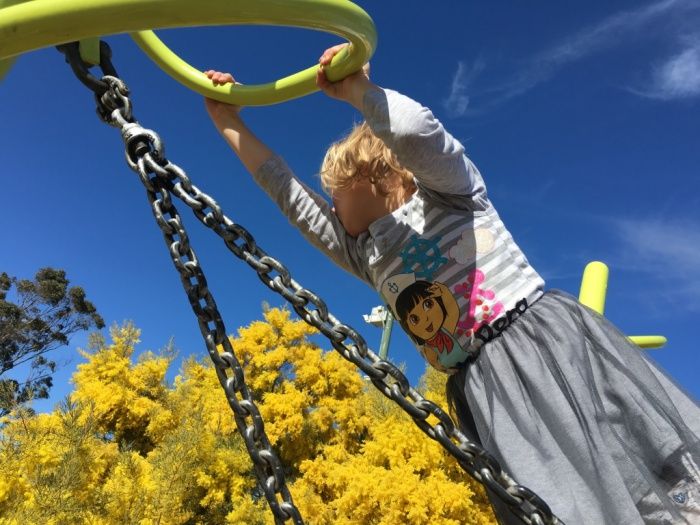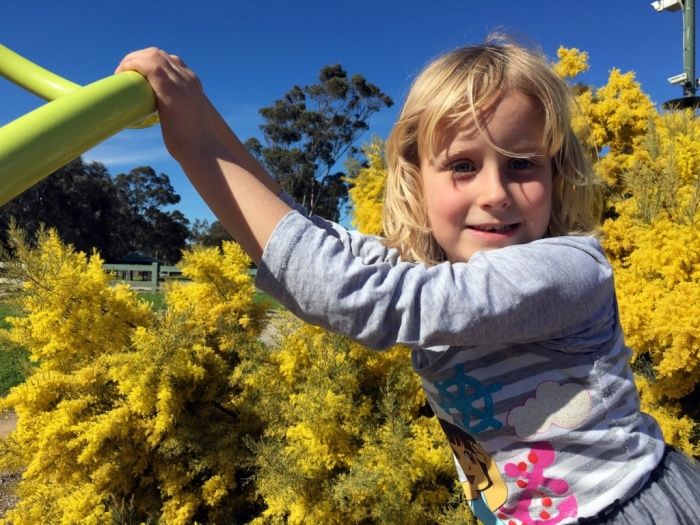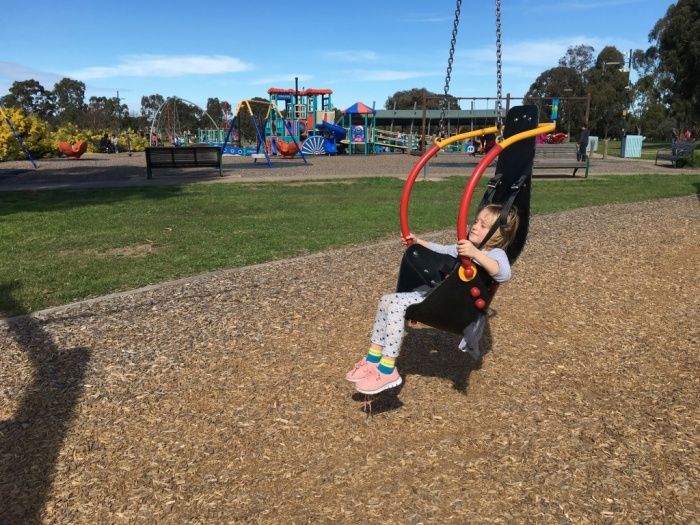 ...until she turned fifty shades of green and we called it a day.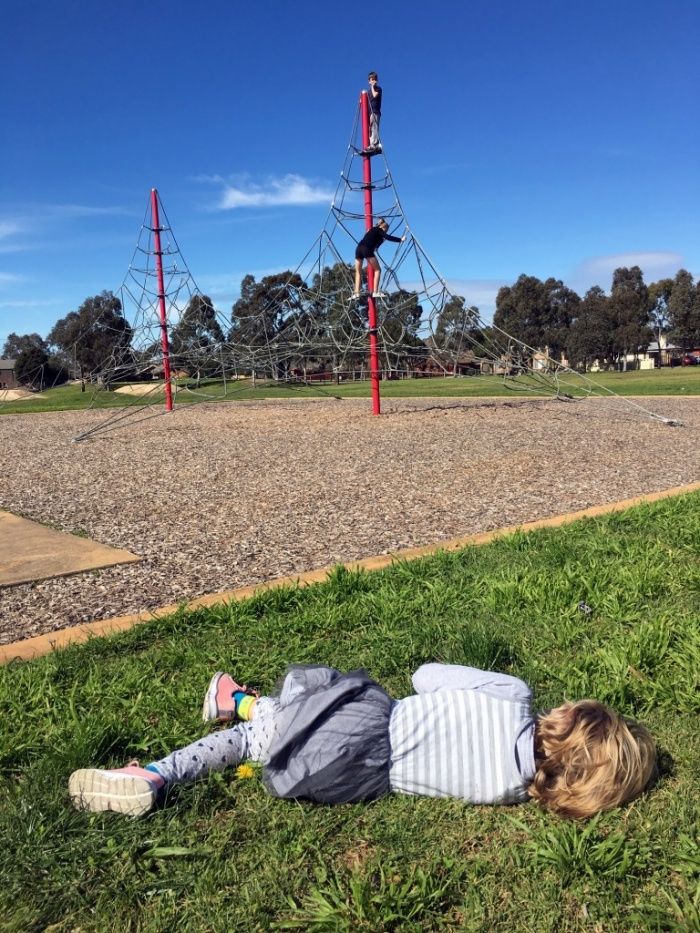 City sights. Melbourne Central station, lunch at the Emporium, a trip to the Scienceworks museum. Today I met my friend for lunch in the City after an interview, and while we ate our edamame and dumplings I could almost forget how much my feet were killing me from walking 8 city blocks in high heels when I could just have taken the tram. Or worn my pumps. Or some combination of the two.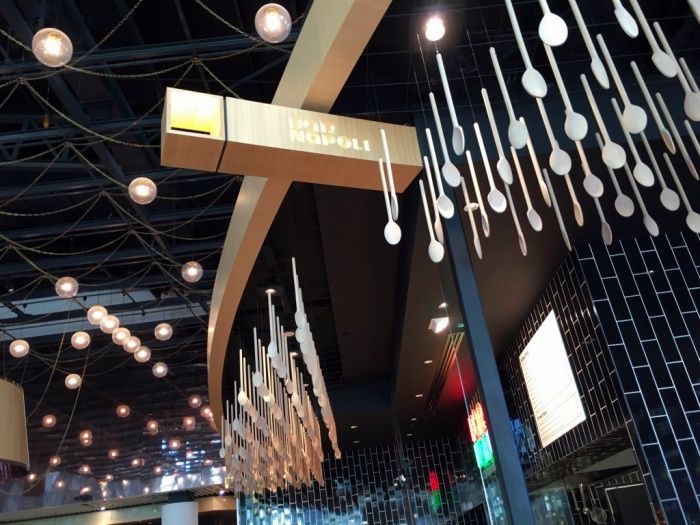 Well. Immy lost her first tooth AT LAST. She pulled it out herself at school and bought it home proudly in a grubby. bloody tissue. The tooth fairy exchanged the tooth, a flower and a hand-written note (
I hop you lik this
) for $5.
I love that gap.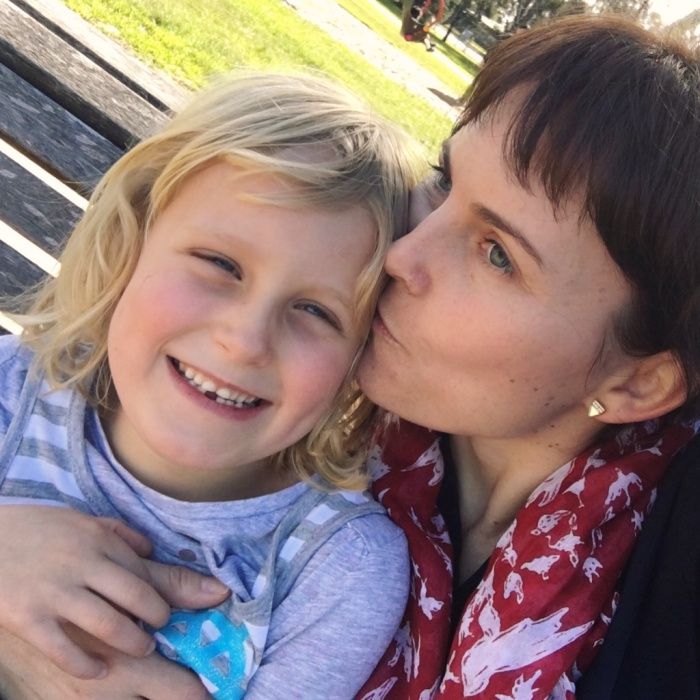 This Father's Day card. Her new school is bilingual - half English, half French - so in addition to decorating a mug, a t-shirt, a Chinese fan and an English card for Rob (!), she made this. I was quite taken with the picture of 'mon dady'. And really - the French. Be still my heart.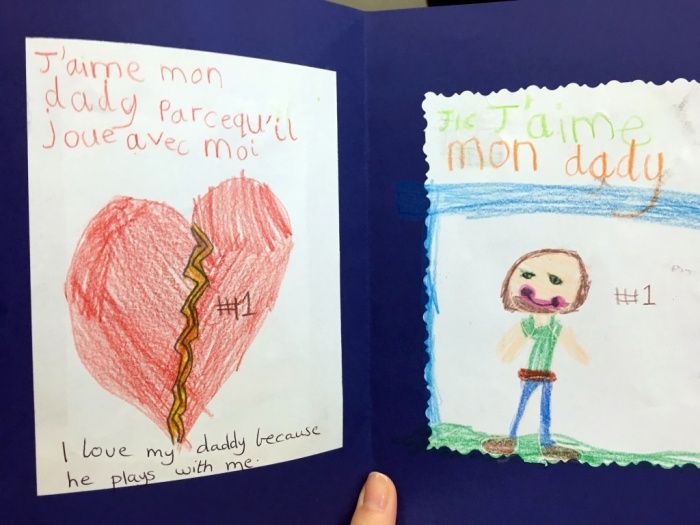 So we're settling in, finding our rhythm, figuring things out as we go along. Every day there's something new to see, or taste, or experience. It feels like we've just slipped into the right decision, and carried on from there. Now, I'm looking forward to finding the right job, and the right home. I can't wait to anchor myself in a bright, sunny space to call my own.
For now though, I'm the person on the train drifting easily through the days with a good cup of coffee (the coffee is spectacular here) and a book in hand, dreaming of all the good things still to come.